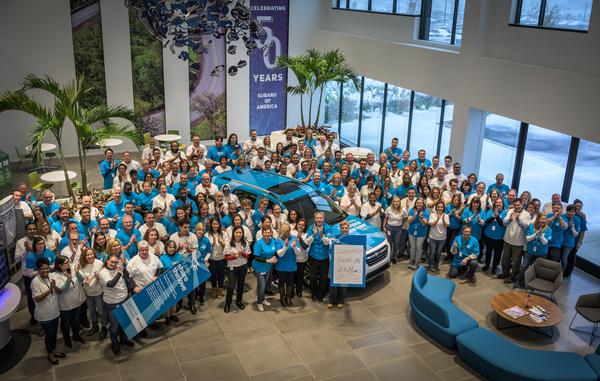 Subaru has always been known as a company that puts the community and environment above everything else. Every event and drive they participate in is a testament to the corporate culture that starts with the CEO, and works its way down to each individual dealership. This time of year, Subaru has kicked-off the Subaru Share the Love Event. This event is an annual philanthropic event which is aimed at charities across the entire country. Employees at Subaru of America, the headquarters in New Jersey, partnered with the Food Bank of South Jersey. They are helping with donations, and they have packed a record-breaking 6,600 'KidzPacks'. These packs contain items that are nutritionally-balanced snacks and meals for different children in the community. To learn more about Share the Love and the Food Bank of South Jersey, keep reading down below!
Can you tell me more about the Food Bank of South Jersey?
This food bank helps to serve more than 160 children that reside in the Camden, NJ area. These packs are given out weekly in order to help combat youth hunger. The help given to this program is astounding, and the donation given by Subaru is the largest ever in terms of the KidzPack program. This donation helps the Special Programs team feed more mouths, and reach out to even more community members. They do the best they can with limited resources, and their goal is always to feed as many people as they possibly can. The more resources, the more donations, and the more volunteers--the more people get fed.
What else does the Share the Love event do?
This event runs through January 2nd, 2019, and with every Subaru purchased or leased, Subaru donates $250. This includes over 628 participating dealerships across the entire country, which means it's the perfect opportunity to buy a car and know that you're also helping to give back to your local community. A few of the places that the donations go to include the National Park Foundation, Meals on Wheels America, Make-A-Wish, and the American Society for the Prevention of Cruelty to Animals. Subaru retailers also have the opportunity to include hometown charities that costumers can support. 
Subaru has become more than just an automaker. This company has made a name for itself philanthropically, and with every new Subaru Share the Love event, they further set themselves apart from other car makers. Not only will you find Subaru vehicles to be reliable, but you can count on the local dealerships and the corporate headquarters to give back to the communities that they are a part of. If you want to join in, buy a new Subaru, or lease a new Subaru today! We have a
full inventory
and we'd love to help you find the Subaru of your dreams!